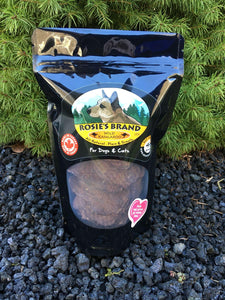 The food is awesome
Our dogs and our dogs friends love the Kangaroo treat. It is awesome!
Amazing treats
All of my dogs loveeeee your kangaroo treats. The owner of Barking Babies recommended I try them and I'm so happy she did. My yorkie had pancreatitis a year ago so he can only have treats that are under 4% fat which are so hard to find. So I just wanted to message and say thank you so much for making amazing treats 😊❤️🐶🐾🦴
These are great! Puppy loves them. Easy, nice size, no mess, and something different then the usual!
Great healthy treats
My very elderly Yorkie loved her Rosie's Kangaroo treats! I crumbled a bit of one onto her vet food to motivate her to eat and keep her weight up. Now my two younger dogs are enjoying them as special rewards and treats. I love that they can be broken to tiny sizes for my tiny dogs, carried on walks without making a mess inside my pockets and on my hands, are a lean, healthy source of protein and, best of all, are made here in Coastal BC. I live on the Island and order several at a time. Thank you, Modern Kibble.