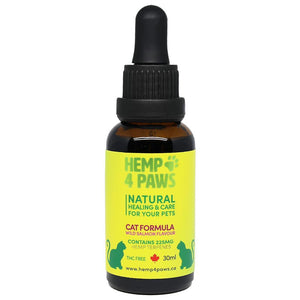 Hemp 4 Paws Hemp Seed Oil Wild Salmon Flavour For Cats
Regular price $30.00 Sale
How does it work?
Our Cat Formula helps to boost your cats endocannabinoid system, similarly to how taking Vitamin C works to boost your immune system. The endocannabinoid system helps regulate their immunity, sleep, appetite, mood, pain and more which is how it can help a wide array of ailments.  
Why Wild Alaskan Salmon Oil & Organic MCT oil?
Since most cats love the taste of salmon we've made our Cat Formula with wild alaskan salmon oil and MCT oil unlike our other tinctures which are made with organic cold-pressed hemp seed oil.  Our wild alaskan salmon oil is rich in omega-3 fatty acids which are very beneficial for cats fur, immune system, and joint health. And organic MCT oil aids in digestion, reduces inflammation, and can also help with brain health.
How much should I give my cat?
Not only does your cat have a unique, one of a kind personality, they also have a one of a kind endocannabinoid system. Because of this, finding the perfect dose can take a little trial and error. We recommended starting with 0.25ml twice a day and adjusting the dosage if need be after a week. 
5 Benefits of our cat formula
1. Anti-inflammatory
Thanks to our extracts natural anti-inflammatory properties, our Cat Formula can be helpful for relieving a wide variety of pain issues, including arthritis, intestinal inflammation, respiratory tract inflammation that can occur when your cat regurgitates hairballs, and more. 
2. Anxiety & stress
The active ingredient in our Cat Formula can help to stimulate the serotonin (the happy hormone) receptors in your cat's brain which can boost their mood. This can be helpful for reducing their anxiety towards loud noises, travelling in the car, meeting new pets and people, and more. 
 3. Seizures
Seizures are caused by electrical disruptions in the brain, these abrupt changes to your cat's brain activity lead to violent shaking throughout their body. The neuroprotectant properties in our cat formula can help reduce the intensity and frequency of seizures.  
4. Skin and coat health
Our Cat Formula can help to revive their coat, making it stronger, softer, and shinier and relieve pain, redness, and itchiness caused by skin allergies or conditions. 
5. Overall wellness
By boosting their endocannabinoid system, a daily dose can help to prevent the development of serious, long-term health issues.