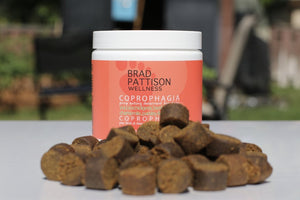 Brad Pattison Pet Wellness Coprophagia Soft Chews (60 count)
Regular price $28.00 Sale
POOP EATING DETERRENT FOR DOGS!

Carefully formulated with proven active ingredients such as glutamic acid, yucca schidigera, parsley, chamomile, oleoresin capsicum and probiotics. Cold-processed to preserve the integrity of the ingredients. These soft chews may deter your dog from eating their poop! Non-GMO and gluten free.
We bet the natural beef, bacon and cheese flavour will impress your pet!
For use in dogs over 12 weeks of age.
60 count - net weight 5.3 oz (150 grams)
Probiotic Blend (Lactobacillus acidophilus, Bifidobacterium bifidum, Lactobacillus casei, Lactobacillus fermentum, Lactobacillus reuteri, Lactobacillus plantarum). … 2.5 Million CFU
Inactive ingredients: Chickpea Flour, Potato Flour, Tapioca Starch, Cane Molasses, Purified Water, Cooked Beef Powder, Lecithin, Safflower Oil, Glycerin, Cheese Powder, Natural Bacon Flavour, Sorbic Acid, Mixed Tocopherols, Ascorbic Acid.
Suggested serving:
0 - 25 lbs - 0.5 per day
26 - 50 lbs - 1 per day
51 - 100 lbs - 1-2 per day
>100 - 150 lbs -  2.5 per day
Coprophagia is a condition whereby puppies and dogs consume their own stool. It is a common habit in some dogs which can be distressing for the pet owner and unhygienic for the pet. As many as 16% of dog owners report that their dog has this habit. An abundance of bacteria and parasites found in feces can be a danger to canine health when consumed.
Brad Pattison Pet Wellness Coprophagia Soft Chews have been specially formulated to help deter this behaviour by making the dogs' own stool unpalatable to eat. These targeted health soft chews contain
Capsicum Oleoresin
, a lachrymatory agent, which deters a dog from eating its own stool by causing a mild irritation to the eyes and a mild burning sensation if the stool is eaten. This natural plant-derived ingredient improves the body's ability to absorb nutrients, fight infection and alleviate discomfort. This ingredient has anti-inflammatory properties. It is a general tonic and is specific for the circulatory and digestive systems. It has the ability to balance blood pressure, correcting it to a normal range. In the digestive tract, it improves the body's absorption of nutrients while reducing gas, flatulence, diarrhea, constipation, and other uncomfortable symptoms.
Brad Pattison Pet Wellness Coprophagia Soft Chews contain the active ingredient yucca shidigera which acts as a poop eating deterrent by generally improving the character and reducing the intensity of canine faecal aroma. Studies show that the overall decrease in fecal offensiveness is 26% when canine diet is enriched with yucca shidigera. This natural remedy has also been celebrated for its anti-inflammatory properties.
The active ingredient, glutamic acid, which plays a therapeutic role in digestion, immune health, muscle cells and other bodily functions. It appears to serve as a fuel for the cells in the intestinal tract.
Probiotics, which may improve the animal's digestive performance. Dogs may benefit from probiotics, which may aid digestion and may modulate the immune system. Probiotics produce short-chain fatty acids which inhibit the growth and activity of harmful bacteria, such as E. coli, Salmonella, and Clostridium perfringens, as well as providing other benefits to the intestines. The majority of a dog's immune system resides in his gut. The gut is the largest immune organ in the body and contains approximately 70% of all immune cells so keeping your dog's digestive system running optimally may support immune health. Giving your dog healthy bacteria may positively impact chronic GI abnormalities, obesity, liver disease, and mood and behaviour disorders. A daily probiotic supplement may also provide some ancillary benefits for dogs such as better skin and coat appearance, a reduction in gas, improved breath, a reduction of allergy symptoms, a reduction in yeast-associated disorders, and help in regulating bowel function. 
Parsley, which may freshen your dog's breath and may offer a host of other health benefits. Parsley is high in fibre and may be a diuretic helping to move food through the digestive tract. Parsley is packed with chlorophyll which may support blood health. It also may improve digestion, the most likely cause of bad breath in dogs with healthy teeth and gums.

Chamomile
which may soothe inflamed intestinal surfaces just as it does the skin. Indeed, one of the most common uses of chamomile in animal medicine is to soothe irritated intestines.
Active Ingredients (for each and every soft chew):
Glutamic Acid ……………………….....…. 200 mg
Yucca Schidigera ..……………………….. 150 mg
Parsley ……………….……………………….… 50 mg
Chamomile ..………………….….….…...…. 25 mg
Oleoresin Capsicum ……………..….…… 0.3 mg