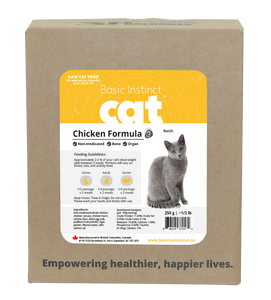 Basic Instincts Cat Non-medicated Chicken Formula w/ Bone
Regular price $10.00 Sale
Pack of 5 pouches 250g each
Basic Instincts™ Cat Chicken is a good, popular protein source for most cats. It is produced using human-grade meat which means it is the same you get in your local grocery store.  It may have been raised using antibiotics as part of a health regime but has not been raised using growth hormones or artificial stimulants.
Chicken provides a high percentage of taurine, and a high ratio of Omega 3 & 6 fatty acids – great for a healthy coat and skin!
Ingredients
Whole chicken with bone, chicken heart, chicken liver, dried egg yolk, psyllium husk powder, agar, gelatin, filtered water, wild salmon oil.
Meet the Farmer
All our chicken is sourced from locally in British Columbia, Canada from Maple Hills Chicken. (hyperlink to their website required).  http://maplehillfarms.ca
Maple Hill Farms is a family owned & operated business located in the small farming community of Mt. Lehman, in the central Fraser Valley.  They have been involved in poultry farming for over 40 years.
At Maple Hill Farms they put their best efforts into creating a top-quality product.  This starts with ensuring a humane, healthy lifestyle for the chickens and following through with utmost care and cleanliness during every step of processing.
Maple Hill chickens are kept in flocks where there is plenty of room to grow and are housed in barns where natural light is allowed to shine in.  Hay bales are placed in the barns to provide further enhancement to the lives of the chickens.  The vegetarian feed that the chickens eat contains no animal by-products, no medications or antibiotics.
Maple Hill Farms is committed to upholding a healthy environment for their chickens.  The chicken in your Basic Instinct Chicken Formulas has been:
Grain-fed

Was not fed any animal by-products

Is antibiotic-free (except where noted as being human-grade) 

Certified to the 5-Step Animal Welfare Rating Standards

Raised and prepared under a strict certification program
Nutritional Analysis
Crude Protein14.37%
Crude Fat6.34%
Crude Carbs1.00%
Moisture76.01%
Calcium0.7%
Phosphorus0.43%
Taurine101 mg
Calories118
Feeding Guidelines
Adult/Senior Cats: 
100g – 200g per day
Portions can be divided into two portion feedings or given as one.
Kittens: 
175g – 250g per day
Portions for kittens can be given 2-3 times per day